Man-task Your Way through the Madness of March with Intel
The NCAA college basketball championship tournament is the perfect time to hone your "man-tasking" skills - the uncanny ability to use a variety of gadgets and technologies simultaneously to get the most out of the major sporting events. The all new 2010 Intel Core processor family can help man-taskers step up their game and avoid missing a Core Moment of the tournament - from watching multiple games online and streaming videos, to tracking blogs and Tweeting while monitoring tournament brackets.
Music Video
Watch how the captain of Team Man-task manages to tune into all of the Madness of March and keep up with game scores and tournament updates using the latest and greatest technology.
Audio
Photography
The "ultimate man-tasker" - click the image below to download a larger version (JPG 834KB)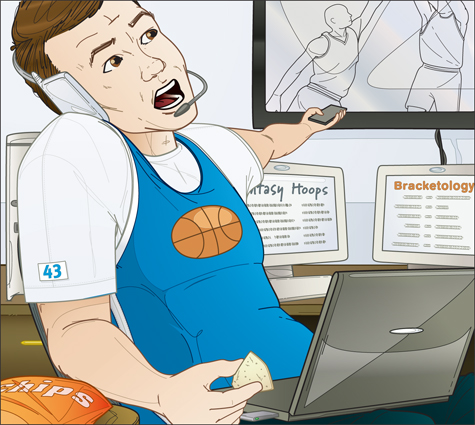 back to top Are You a Man-tasker? - Take the Quiz
Are you a man-tasker? Do you watch multiple games online, stream video clips from past games, track sports blogs and Twitter personalities and check fantasy scores and tournament brackets? See if you have the ability to use a variety of different technologies and gadgets simultaneously during major sporting events and earn your spot on the varsity Man-tasking team.
Join in the "Man-tasking" Blog Discussion
hashtag: #mantasking
Follow the Story on Twitter*
Share, Bookmark and Stay Connected