Intel News Release
Product Photos
Intel® Atom™ processor CE4100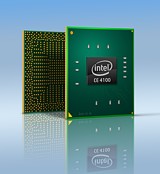 Intel Technology, Processing Power Key to TV Revolution
Intel® CE Media Processors, Advanced 3-D, Intelligent Networks Usher in Interactive TV Era
INTEL DEVELOPER FORUM, San Francisco, Sept. 24 – The television, both the device and the experience, has arrived at an inflection point. In keynote addresses today at the Intel Developer Forum, Intel Corporation executives Eric Kim and Justin Rattner discussed what happens and what's needed when the full Internet converges with broadcast networks. The executives laid out the opportunities, both short- and long-term, to make the TV experience more visual, more personal and more interactive.
Kim, senior vice president and general manager of Intel's Digital Home Group, took the wraps off the Intel® Atom™ processor CE4100, the newest system-on-chip (SoC) in a family of consumer electronics (CE) media processors, and announced efforts with several key industry players including Adobe, CBS, Cisco and TransGaming which are helping to make the vision of interactive TV a reality in the short-term.
"At the center of the TV evolution is more processing power, which we deliver with the CE4100 media processor, built on the Intel® Atom™ core and optimized for IPTV digital set-tops, connected media players and digital TVs," said Kim. "With its performance and high-resolution graphics capabilities, CE manufacturers and software developers now have a platform for real innovation."
According to Rattner, Intel's chief technology officer and Senior Fellow, that innovation will accelerate in the next few years.
"By the year 2015, you can expect 15 billion consumer devices capable of delivering TV content with billions of hours of video available," said Rattner. "We'll need much more sophisticated ways to organize content and provide it on demand. Intel Labs researchers are working on evolving technology so people can get the TV content they want, when they want it and wherever they want it."
3-D, Advanced Graphics and More
As consumer devices deliver more and more TV content, developers will need to blend together video, 3-D animation and rich graphics. And in turn, the importance of graphics and audio/video decoding in CE platforms becomes increasingly critical. Kim disclosed that Intel and Adobe Systems are working together to port Adobe® Flash® Player 10, a key tool for content developers, to the new family of SoC media processors. This will result in future CE devices that are optimized for playback of graphics and H.264 video to enable for the first time a wide array of Flash Player 10-based applications on the television.
Rattner predicted that high-quality 3-D video will someday soon be consumed in the privacy of your own living room. Onstage, he spoke to a life-size 3-D version of 3ality Digital CTO Howard Postley about the intense computation and bandwidth required for capturing and managing 3-D TV in real time. Both executives discussed how a new high-speed optical I/O technology from Intel, codenamed "Light Peak," will improve bandwidth and flexibility while greatly reducing complexity and cost for PC users downloading videos and other digital media. Postley said 50 copper-based cables on the set of a 3-D shoot today could be replaced with a single optical cable with Light Peak technology. In addition to its extreme speed, Light Peak technology has the unique ability to simultaneously transport multiple existing I/O protocols.
Personal TV, Intelligent Networks
With the massive amount of TV content delivered digitally today and in the future, personalization is critical. TV Network CBS developed a TV Widget, or small Internet application, to help viewers find and connect to premium content in a more customized manner. TV Widgets are made possible by the performance of Intel CE media processors and Widget Channel, a software development framework.
Delivering interactive product placements, games and on-demand video on non-traditional TVs, such as digital connected CE devices, will require innovation in how that content is actually distributed from TV service providers.
Joining Kim on stage was Malachy Moynihan, Cisco's vice president of video product strategy, Service Provider Video Technology Group, to discuss how the company is helping service providers evolve their current networks to a medianet, which integrates the best elements of the existing broadcast infrastructure with carrier-grade IP networks to provide such new services as unified video experience.
Intel, Intel Atom and the Intel logo are trademarks of Intel Corporation in the United States and other countries.
* Other names and brands may be claimed as the property of others.