Intel® NUC serial numbers and SA numbers (subassembly number, or stocking ID) can be found on the label on the bottom of the chassis (see below) or on the board. You'll need these numbers when checking warranty coverage. See examples below.
For Intel® NUC Kits or Intel® NUC Mini PCs, check the chassis label
Serial number (Required to check warranty coverage)
SA number (stocking ID, used in tables below)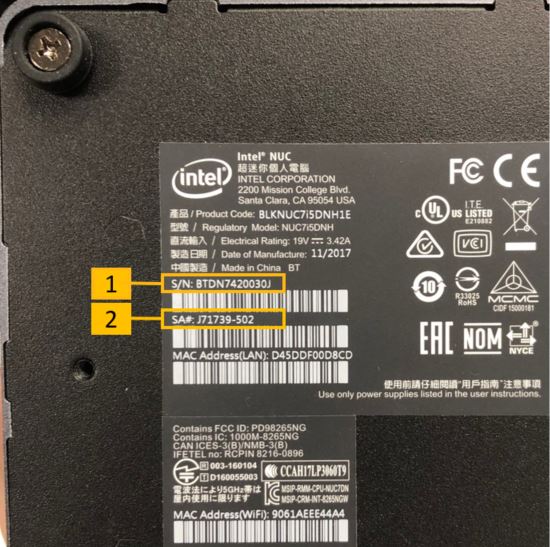 For Intel® NUC Boards, check the barcode label on the memory slot
Serial number
AA number (stocking ID)

Use your device's SA or AA number to find the Intel NUC model by referencing the information below.
Click or the product for details:
Intel® NUC Mini PCs

SA Number
(Stocking ID)
Mini PC Model
Link to Support Site
Link to Specifications
K29939-xxx

Intel® NUC 8 Mainstream-G NUC8i7INHJA

Support
Specs
K47348-xxx
Intel® NUC 8 Mainstream-G NUC8i7INHPA
Support
Specs
K29938-xxx
Intel® NUC 8 Mainstream-G NUC8i5INHJA
Support
Specs
K47340-xxx
Intel® NUC 8 Mainstream-G NUC8i5INHPA
Support
Specs
K32822-xxx
Intel® NUC 8 Enthusiast NUC8i7BEKQA
Support
Specs
K32821-xxx
Intel® NUC 8 Enthusiast NUC8i7BEHGA
Support
Specs
K32864-xxx
Intel® NUC 8 Home NUC8i5BEKPA
Support
Specs
K32878-xxx
Intel® NUC 8 Home NUC8i5BEHFA
Support
Specs
K32887-xxx
Intel® NUC 8 Home NUC8i3BEHFA
Support
Specs
K22508-xxx
Intel® NUC 8 Enthusiast NUC8i7HVKVA
Support
Specs
K23678-xxx
Intel® NUC 8 Enthusiast NUC8i7HVKVAW
Support
K22509-xxx
Intel® NUC 8 Business NUC8i7HNKQC
Support
Specs
J69933-xxx
Intel® NUC 8 Home NUC8i3CYSM
Support
Specs
J69953-xxx
Intel® NUC 8 Home NUC8i3CYSN
Support
Specs
K12110-xxx
Intel® NUC 7 Business NUC7i5DNKPC
Support
Specs
K12109-xxx
Intel® NUC 7 Business NUC7i3DNKTC
Support
Specs
K12108-xxx
Intel® NUC 7 Business NUC7i3DNHNC
Support
Specs
J67993-xxx
J67994-xxx
Intel® NUC 7 Essential NUC7CJYSAL
Support
Specs
J79498-xxx (BNKQ)
J79501-xxx (BNKQR)
J79519-xxx (BNKQL)
Intel® NUC 7 Enthusiast NUC7i7BNKQ
Support
Specs
J79521-xxx (BNKP)
J79534-xxx (BNKPR)
J79544-xxx (BNKPL)
Intel® NUC 7 Home NUC7i5BNKP
Support
Specs
J69975-xxx (BNHXG)
J69977-xxx (BNHXGL)
Intel® NUC 7 Enthusiast NUC7i7BNHXG
Support
Specs
J69978-xxx (BNHXF)
J69980-xxx (BNHXFL)
Intel® NUC 7 Home NUC7i5BNHXF
Support
Specs
J69982-xxx (BNHXF)
J69985-xxx (BNHXFL)
Intel® NUC 7 Home NUC7i3BNHXF
Support
Specs
J26848-xxx (AYSAJR)
J26847-xxx (AYSAJ)
J26849-xxx (AYSAJL)
Intel® NUC Kit NUC6CAYS
Support
Specs
H86845-xxx (GYHOAJR)
H78168-xxx (GYHOAJ)
H95036-xxx (GYHOAJL)
Intel® NUC Kit NUC5PGYH
Support
Specs
Intel® NUC Kits

SA Number
(Stocking ID)
Kit Model
Link to Support Site
Link to Specifications
K47344-xxx
Intel® NUC 8 Mainstream-G NUC8i7INHX
Support
Specs
K47349-xxx
Intel® NUC 8 Mainstream-G NUC8i7INHP
Support
Specs
K47347-xxx
Intel® NUC 8 Mainstream-G NUC8i7INHZ
Support
Specs
K47339-xxx
Intel® NUC 8 Mainstream-G NUC8i5INHX
Support
Specs
K47343-xxx
Intel® NUC 8 Mainstream-G NUC8i5INHP
Support
Specs
J71486-xxx
Intel® NUC Kit NUC8i7HNK
Support
Specs
J71485-xxx
Intel® NUC Kit NUC8i7HVK
Support
Specs
J72992-xxx
Intel® NUC Kit NUC8i7BEH
Support
Specs
J72747-xxx
Intel® NUC Kit NUC8i5BEH
Support
Specs
J72742-xxx
Intel® NUC Kit NUC8i5BEK
Support
Specs
J72753-xxx
Intel® NUC Kit NUC8i3BEH
Support
Specs
J72748-xxx
Intel® NUC Kit NUC8i3BEK
Support
Specs
J67992-xxx
Intel® NUC Kit NUC7PJYH
Support
Specs
J67971-xxx
Intel® NUC Kit NUC7CJYH
Support
Specs
J85069-xxx (DNKE)
J85121-xxx (DNK1E)
J85124-xxx (DNK2E)
J85377-xxx (DNK3E)
J85378-xxx (DNK4E)
J85379-xxx (DNK7E)
J85398-xxx (DNK9E)
Intel® NUC Kit NUC7i7DNKE
Support
Specs
J85489-xxx
Intel® NUC Kit NUC7i7DNHE
Support
Specs
J72865-xxx
J63106-xxx
Intel® NUC Kit NUC7i5DNKE
Support
Specs
J57828-xxx
J63107-xxx
J71739-xxx
Intel® NUC Kit NUC7i5DNHE
Support
Specs
J57829-xxx
J63083-xxx
Intel® NUC Kit NUC7i3DNKE
Support
Specs
J57830-xxx
J63092-xxx
Intel® NUC Kit NUC7i3DNHE
Support
Specs
J31146-xxx (BNHR)
J31153-xxx (BNH)
J31155-xxx (BNHL)
Intel® NUC Kit NUC7i7BNH
Support
Specs
J59452-xxx (BNHX1)
J61751-xxx (BNHX1L)
Intel® NUC Kit NUC7i7BNHX1
Support
Specs
J31159-xxx (BNK)
J31160-xxx (BNKL
Intel® NUC Kit NUC7i5BNK
Support
Specs
J31169-xxx (BNH)
J31170-xxx (BNHL)
Intel® NUC Kit NUC7i5BNH
Support
Specs
J59438-xxx (BNHX1)
J61813-xxx (BNHX1L)
Intel® NUC Kit NUC7i5BNHX1
Support
Specs
J31188-xxx (BNK)
J50876-xxx (BNKL)
Intel® NUC Kit NUC7i3BNK
Support
Specs
J31187-xxx (BNHR)
J31184-xxx (BNH)
J31191-xxx (BNH)
J50874-xxx (BNHL)
Intel® NUC Kit NUC7i3BNH
Support
Specs
J59435-xxx (BHNX1)
J61817-xxx (BNHX1L)
Intel® NUC Kit NUC7i3BNHX1
Support
Specs
J26844-xxx (AYHR)
J26843-xxx (AYH)
J26845-xxx (AYHL)
Intel® NUC Kit NUC6CAYH
Support
Specs
H90754-xxx (KYK)
H90755-xxx (KYK1)
H90756-xxx (KYK2)
H90757-xxx (KYK3)
H90758-xxx (KYK4)
Intel® NUC Kit NUC6i7KYK
Support
Specs
H87090-xxx (SYH)
H96271-xxx (SYHR)
H95047-xxx (SYHL)
Intel® NUC Kit NUC6i5SYH
Support
Specs
H87089-xxx (SYK)
H96269-xxx (SYKR)
H95046-xxx (SYKL)
Intel® NUC Kit NUC6i5SYK
Support
Specs
H87086-xxx (SYH)
H96258-xxx (SYHR)
H95045-xxx (SYHL)
Intel® NUC Kit NUC6i3SYH
Support
Specs
H87085-xxx (SYK)
H96256-xxx (SYKR)
H95044-xxx (SYKL)
Intel® NUC Kit NUC6i3SYK
Support
Specs
H74562-xxx
Intel® NUC Kit NUC5CPYH
Support
Specs
H76559-xxx
Intel® NUC Kit NUC5PPYH
Support
Specs
H73775-xxx
Intel® NUC Kit NUC5i7RYH
Support
Specs
H41219-xxx
Intel® NUC Kit NUC5i5RYH
Support
Specs
K44991-xxx
Intel® NUC Kit NUC5i5RYHS
Support
Specs
H41218-xxx
Intel® NUC Kit NUC5i5RYK
Support
Specs
K23918-xxx
Intel® NUC Kit NUC5i3RYHS
Support
Specs
K23903-xxx
Intel® NUC Kit NUC5i3RYHSN
Support
Specs
H41220-xxx
Intel® NUC Kit NUC5i3RYH
Support
Specs
H41221-xxx
Intel® NUC Kit NUC5i3RYK
Support
Specs
H47796-xxx
Intel® NUC Kit NUC5i5MYHE
Support
Specs
H52443-xxx
Intel® NUC Kit NUC5i3MYHE
Support
Specs
H27002-xxx
Intel® NUC Kit DE3815TYKHE
Support
Specs
H22962-xxx
Intel® NUC Kit DN2820FYKH
Support
Specs
H25101-xxx (WYKH)
H26245-xxx (WYKH1)
H26246-xxx (WYKH2)
H26247-xxx (WYKH3)
Intel® NUC Kit D54250WYKH
Support
Specs
H25115-xxx (WYKH)
H26248-xxx (WYKH1)
H26249-xxx (WYKH2)
H26250-xxx (WYKH3)
Intel® NUC Kit D34010WYKH
Support
Specs
H14752-xxx
Intel® NUC Kit D54250WYK
Support
Specs
H14767-xxx
Intel® NUC Kit D34010WYK
Support
Specs
H10106-xxx
G87963-xxx
Intel® NUC Kit DC53427HYE
Support
Specs
G80097-xxx
H15917-xxx
Intel® NUC Kit DC3217IYE
Support
Specs
G80090-xxx
Intel® NUC Kit DC3217BY
Support
Specs
G80888-xxx
Intel® NUC Kit DCCP847DYE
Support
Specs
Intel® NUC Boards

AA Number
(Stocking ID)
Board Model
Link to Support Site
Link to Specifications
K29936-xxx
Intel® NUC 8 Board NUC8i7INH
Support
Specs
K29935-xxx
Intel® NUC 8 Board NUC8i5INH
Support
Specs
J83500-xxx
Intel® NUC Board NUC7i7DNBE
Support
Specs
J57626-xxx (DNBE)
J63721-xxx (DNBEL)
Intel® NUC Board NUC7i5DNBE
Support
Specs
J57625-xxx
Intel® NUC Board NUC7i3DNBE
Support
Specs
H47797-xxx
Intel® NUC Board NUC5i5MYBE
Support
Specs
H47781-xxx
Intel® NUC Board NUC5i3MYBE
Support
Specs
H26998-xxx
Intel® NUC Board DE3815TYBE
Support
Specs
G99254-xxx
Intel® NUC Board D54250WYB
Support
Specs
G99257-xxx
Intel® NUC Board D34010WYB
Support
Specs
G87790-xxx
Intel® NUC Board D53427RKE
Support
Specs
G69901-xxx
Intel® NUC Board D33217GKE
Support
Specs
G69977-xxx
Intel® NUC Board D33217CK
Support
Specs
G79416-xxx
Intel® NUC Board DCP847SKE
Support
Specs