Delivering games from the cloud is here to stay. It's too compelling for businesses and players to fade. Ultimately in 10-20 years do we think the next generation of teens will still be downloading and installing, patching and updating all their games? Probably not.
Streaming games solves some desirable hygiene factors, like not waiting for downloads and updates, or not having to store multiple >100 GB games on different devices. And there's an inherent simplicity to having your stuff in the cloud which is a big part of the reason it has taken off for everything from documents to music to photos etc.
With rich features and the opportunity for great content, streaming and subscriptions work well in partnership. You can have one without the other, but they do tend to co-exist because of two key benefits:
The ability to reach audiences directly and instantly 'over-the-top';
the ability to give flexibility and choice about what and how you consume.
Content and Amazing Experiences Trump All
But features and subscriptions are not enough on their own to drive cloud gaming to the levels of success predicted. What will drive cloud gaming is compelling content and new experiences. This new content will motivate players to use it, which in turn motivates service providers to demand better technology as demand grows and quality of experience and quality of service become more critical. It has to be about unlocking experiences you can't deliver with the download and install model: whether that is about the actual content, or about how you access it or how you interact with it socially. Convenience, choice, removing friction is all good stuff, but content and experiences trump all.
If content is king then scale for cloud gaming is its queen. This is a magical partnership that will lead to new possibilities in content and mind-blowing experiences that can only exist when you add in an extraordinary kind of scale. Game developers have a unique opportunity to be first with a new, never before seen games that leverage scale making the existing Fortnite* 8.3 million concurrent player record look like small fry. We're excited to see what it will be.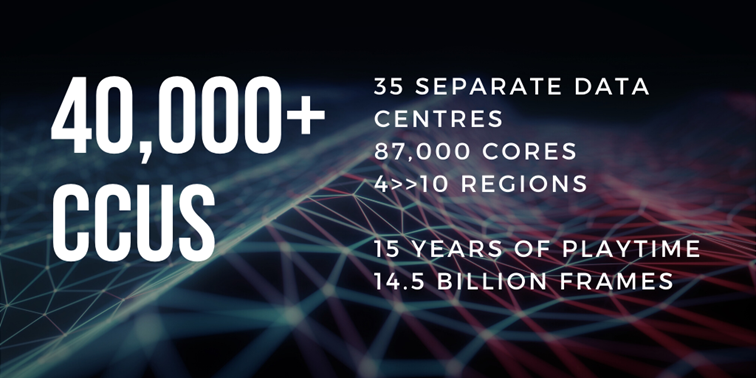 How Do We Help Push the Technology Along Further?
It's not one technology but a whole ecosystem that needs to be pushed along much further to be ready to deliver that new "cloud-first game-changing" content at scale when it's available. How do cloud-only games support the next Apex that goes from zero to 50 million players in just days? We need to evolve current streaming technology quite dramatically to support meaningful growth, and it needs to be both technically and commercially viable to scale. And that means facing the elephant in the room that current solutions can stream this sort of content but don't viably scale.
As we've mentioned in our previous email from Polystream*, new 3D interactive content needs new technology approaches to deliver successfully from the cloud at scale. Without the ability to scale this content affordably, growth will always be held back. Key to scale is concurrent users, something that existing approaches are finding challenging or even impossible to deliver.
Watch our video Polystream: Ground Breaking Scale, to discover how Polystream has hit over 40,000 concurrent users.
A figure that is at least four times more than others have previously managed, redefining what scale means in a 3D interactive content and application rich world. A full case study on how we achieved this with Amazon Web Services* (AWS) can be found in Demonstrating Cloud Gaming Concurrency at Scale with Polystream and AWS Game Tech.
Whoever leads the path to the new cloud-first gaming experiences, it will be an exciting journey. There is a whole new world of scale that is a new frontier to be explored. We challenge teams to join the race to build the ground-breaking moment when we annihilate the rules for what type of experiences are possible when we test the idea of what scale means. If you are working on this challenge we'd love to hear from you.
To discover what industry experts believe about current and future cloud gaming opportunities watch our panel discussions from our official side event at Slush, Fast Forward >>.