Managing Business Technology for the Distributed Workforce
Employees need stable, secure, and powerful technology that supports working from anywhere. IT departments need tools to protect organizations from potential liabilities such as data breaches, lost productivity, and employee churn. In this eBook, learn how IT can boost employee satisfaction and help protect your business in the new hybrid work environment.
It's a Work-from-Anywhere World Now
During the pandemic, IT leaders heroically enabled the productivity of a distributed workforce to keep businesses going. Organizations now have a chance to design strategic solutions for the new hybrid environment. IT needs to choose devices and technologies that will support current and future organization and user needs and keep employees happy. Learn how IT can offer an improved user experience while tackling the manageability and security challenges posed by a remote and hybrid workforce.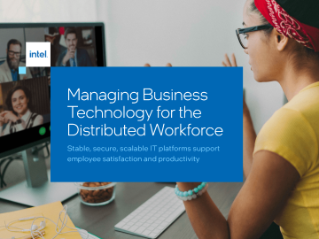 …a 5% improvement in employee engagement leads to a 3% increase in bottom-line revenue." Not coincidentally, among the companies that Forrester surveyed, "nearly 60%... have seen a more than 10% increase in their employee experience scores by improving employees' satisfaction with technology."2
82% of respondents intend to permit remote working some of the time as employees return to the workplace. For many organizations with employees working both onsite and remotely, adapting to a new, more complex hybrid workforce is the challenge as how people work together to get their job done evolves."3
Product and Performance Information